Vantage Digital Banking
— Your finances at your fingertips.
Your life is on the go. With the new Vantage digital banking platform, whether you're at home, at work or on the road, Vantage is there for you 24 hours a day, 7 days a week. You decide when and how to interact with us, with new and intuitive features to best serve your financial needs.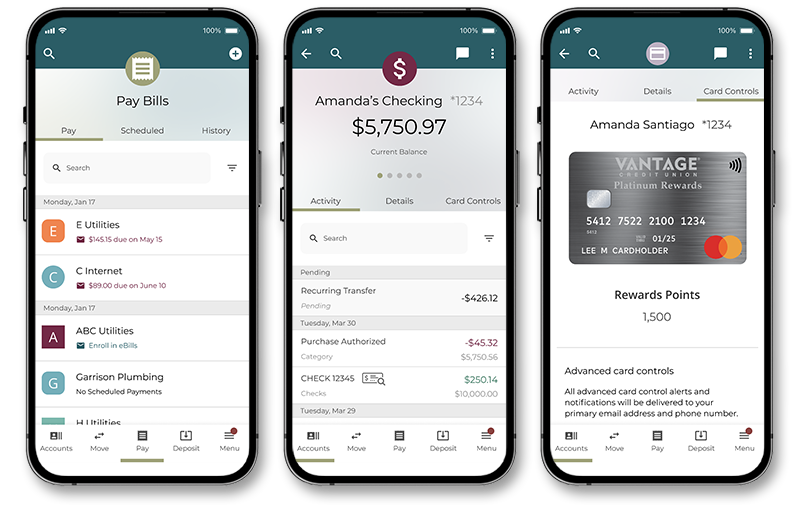 Experience features you already know and use—plus new ones to help you achieve more!

New dashboard
New, intuitive dashboard to review recent transactions, balances and personalized recommendations all in one view.

My credit score
View your weekly credit score and predict how adding a loan could impact it.

Savings goals
Create goals to help you save for an emergency, vacation, education expenses or more, plus monitor your progress.

Financial health checkup
See your spending analysist by category, forecast future spending and add external accounts to keep track of all your accounts in one place.

Card controls
Manage your credit and debit cards with the ability to turn cards on and off, block certain transactions, designate approved regions and set spending limits.

Account alerts
Receive real-time notifications for information you want to know, such as balance alerts, when a check clears or a loan payment is due.
Download our digital banking app today!
Finances at your fingertips. Our digital banking platform is loaded with easy-to-use features to support your financial needs—anytime, anywhere.
Recover Username or Password
Frequently Asked Questions
Once you've selected your preferred Delivery Method, make sure that you've tapped Request Code. You should receive your code within a minute, but if you don't, consult these tips:

Text Code
You may have to contact your carrier to enable short codes on your device.
Check that your number on file is correct.

Email Code
Check your spam folder to see if the code email was filtered. Mark the email as "not spam" if the email was filtered.
Check that your email address on file is correct.
Yes, one of the great new features is the ability to register using the mobile app. The registration process is the same on a mobile device as it is on a laptop or desktop.
Vantage digital banking not only looks new and provides an intuitive user experience; it also offers several new features to help you keep your finances at your fingertips, including:

My Credit Score – View weekly credit score updates and check in on your credit report daily.
Savings Goals – Create goals to help you save and monitor your progress—emergencies, vacation, education—the choice is yours.
Financial Health Checkup – See your spending analysis by category and forecast future spending.
Card Controls – Manage your credit and debit cards with the ability to turn cards on and off, block certain transactions, designate approved regions and set spending limits.
Account Alerts
– Get notified in real-time when one of your accounts falls below a specific balance, a check you wrote clears, a loan payment is due or an unrecognized device attempts to access your account.
You can add checking and savings accounts you have with other financial institutions under Make A Transfer > External Accounts. Once you've linked external accounts, you'll be able to use them to pay loans and make transfers to your checking and savings accounts.

You can also add an external debit card to make payments on your Vantage loans, except for first mortgages, under
Make A Transfer
>
Pay a Loan with a Debit Card
. Please note that a convenience fee applies when making a payment with a debit card.
Yes, you can look at your accounts and transactions on your Apple Watch when you're logged in to the Vantage mobile app.
Transfers between Vantage accounts will be reflected in your balances immediately.
Yes, if you don't have your phone set to automatically update apps, you'll need to download the latest update from your device's app library. The new app icon has a teal background with our Vantage mark in white. Make sure your web browser is updated to the latest version for the best desktop experience as well.
In order to perform specific account functions, such as enrolling in and viewing eStatements, using bill pay and updating contact information, you'll need to create a separate login for each account number. Follow our
guide on how to manage multiple accounts
.
Our new digital banking platform does not support Swipe2Save. You can set up regular transfers from your checking to other accounts to keep the habit of saving money going.
ATM deposits appear in your account immediately, but the funds may not be immediately available.
You can start the process of getting a debit card for your Vantage checking account in digital banking or by calling us at 314.298.0055 or 800.522.6009 during business hours.
If you have multiple accounts with Vantage, you will need to register each of these accounts individually in digital banking.

For easier access to all of your accounts, consult our helpful Manage Multiple Accounts Guide or follow these steps to add additional accounts into your primary digital banking profile:

Register each account you wish to add to your primary profile with a unique username.
Log out of all profiles and log in to your primary profile.
Click on the profile icon in the top right corner of the page and click Switch Accounts.
On the Switch Accounts screen, click the Add Switch Account button.
Log in with the credentials for the account you'd like to link to your primary profile.
Once you've entered valid credentials, you'll be prompted to complete additional security validation by requesting and entering a validation code.
Once validated, the username will display on the Switch Accounts screen.
Under your profile icon, when you select Other Profiles, you'll now have access to this other account on your primary profile.
Repeat this process for any additional accounts you'd like to add to your primary profile.
A mobile device with a working rear camera is needed to deposit checks directly into your digital banking account. You will only be able to make mobile deposits via the mobile app.

Sign the back of the check you'd like to deposit and include "For Deposit Only at VCU." When you go to capture the check with your mobile device's camera, make sure the background where you lay down the check is a dark color and turn off your flash.
Under your phone's settings, select "Developer options" and disable the "Don't keep activities" or "Immediately destroy activities" settings.
My Credit Score or Spending Analysis are available on your dashboard. You'll need to tap Activate under Spending Analysis and accept the terms and conditions in order to use this feature.
Your account gets locked if you enter the wrong username and password combination three times. Tap Forgot Password and follow the instructions to unlock your account.
You will be able to see payoff amounts on all loans except for mortgages and credit cards. Please call the credit union for mortgage or credit card payoff amounts.
As long as you meet eligibility requirements, you can open a new checking, savings or other account under the Accounts section in your app. Tap Open a New Account and follow the prompts.
Phone numbers tied to verification codes are randomly generated. The text before the code should be the same each time.
You'll need to validate your account with a security code the first time you log in on each device. Once logged in, you can enable Face ID or Fingerprint Authentication to access your account without having to receive a code each time. Keep in mind that even with bio-authentication set up, you may be prompted to enter a code on occasion.
Vantage digital banking requires one of the last two versions of Chrome, Firefox, Safari or Edge to run on desktop. The mobile app will run on iOS 15 or higher and Android 12 or higher.
Yes. You can log in from any smartphone or mobile device, including Apple and Android devices, as long as your device is running on iOS 15 or higher or Android 12 or higher.
Yes, each account owner should create their own unique login. The primary account holder will keep the account's current username when the account is migrated into digital banking. To create your own login, you'll need to register with your member number to be able to see all deposits and loans you hold with Vantage.
Create a Savings Goal, view your Spend Forecast, break down your Spending Analysis and access your credit score all from your dashboard. Click on these tools to access even more financial health resources.
The navigation and screen size will be different, of course. The functionality is mostly the same, but you'll need to use the mobile app to deposit checks or use Face ID or Fingerprint Authentication. You can use either desktop or mobile to manage your accounts, turn on controls and alerts and use financial health features.
We will migrate over your existing default account, so your username should still be usable. You'll need to create a new password and designate a phone number or email address to use for authentication.
Yes. Your Vantage credit and debit card work with the following available digital wallets:
To unlock your account, simply select Forgot your username or password? below the Login button. You'll need to answer validation questions and complete a multi-factor authentication process, after which you'll be directed to the page where you can change your password.
Yes. You'll need to provide the account and routing numbers for the external account you'd like to use, and you must also verify the account using microdeposits.
SavvyMoney is a free resource available to our members to help them understand their credit score and credit report while providing real-time credit monitoring alerts. This service also provides financial tips and education regarding the factors that make up a credit score and how to improve it.
When you'll be able to access funds depends on your tier and the amount of the check.

Monday-Friday, except federal holidays, are considered business days. Auto-accepted deposits are not restricted by business days but may still be placed on hold.

A deposit made BEFORE 5:00 p.m. CST Monday-Friday (excluding holidays) is considered to be the first day of that deposit.
A deposit made AFTER 5:00 p.m. or on a day we're not open is considered deposited on the next business day.

You'll receive an email notification when:

Your deposit is accepted or rejected. Rejections will include the reason so you can adjust and resubmit your item. Auto-accepted items are confirmed immediately on-screen.
The hold on an item is extended more than 2 business days. The notification will include when the funds will become available, usually no longer than 10 business days.

All checks subject to holds at Vantage Credit Union's discretion. Any applicable holds are viewable via your available balance.