Search. Sell. Buy. Save. with HomeAdvantage
Members who use HomeAdvantage® when buying or selling their home can earn an average of $1500 Cash Rewards after closing!* In 2021, our members received $35,000 in Cash Rewards.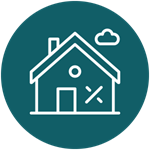 Refinancing Your Home
If you own a home, you likely have a mortgage. Are there ever circumstances where you'd want or need to refinance your current mortgage? Of course!

Do you want to:
Reduce your monthly mortgage payment by securing a lower interest rate
Pay off your mortgage sooner (and reduce your total interest paid) by converting to a shorter term
Make more manageable payments by extending your term
Switch from an adjustable-rate mortgage (ARM) to a fixed-rate loan
Eliminate mortgage insurance, if rising home values and loan payments have pushed your home equity above 20 percent
Take advantage of your home's equity by using money left over after paying your original mortgage for home renovations, large expenses, etc.

Refinancing might sound like a good option, but before you start the process, factor in the following. Refinancing isn't free. It comes with costs, such as an origination fee, an appraisal, title insurance, taxes and other fees. And you need to check to see if your current lender will charge a prepayment penalty.

If you need help weighing the options, our experienced mortgage loan officers can discuss your situation and help with the solution that's best for you!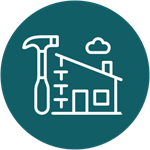 Cash-Out Refinance
Purchasing a home is a big investment! Down the road, you may need repairs or wish the home renovation of your dreams. But, saving a large amount of money to complete those projects may be tough. Your home's equity could be the key. It's called a cash-out refinance.

How could you use the funds from a cash-out refinance?
Home improvement projects
Investment purposes
High-interest debt consolidation
College education

With a cash-out refinance, a new mortgage is taken out for more than your previous mortgage balance, and the difference is paid to you. Your lender will determine how much cash you can receive, based on standards such as your property's loan-to-value (LTV) ratio and your credit score.

Whether you want to pay down debt or renovate your kitchen, a cash-out refinance can be a powerful tool and can give you the money you need to move toward your goals.

What about a home equity loan or home equity line-of-credit? Yes, that's another way to use the equity in your home. When considering your options, take into account what interest rates are available, the closing costs involved, and any potential refinance tax deductions available.
Contact Mortgage Solutions
Adjustable-Rate Mortgage vs. Fixed-Rate Mortgage
Are you shopping for your first home or looking to refinance? What's an adjustable-rate mortgage (ARM)? Why choose that over a fixed-rate mortgage?

With an ARM, your interest rate remains fixed for a certain period—typically seven, 10 or 15 years—but then switches to a variable rate that adjusts every 12 months or so. With a fixed-rate mortgage, your interest rate remains the same for the life of your loan. It's predictable and simple—but is it the right choice for you?

Does an ARM sound more complex? It doesn't have to be—and it can offer certain advantages.
Lower interest rate upfront. ARMs offer lower interest rates during their fixed period than fixed-rate mortgages.
Qualification. ARMs are typically less risky for the lender's perspective because they capitalize after the fixed period if interest rates increase.
Flexibility. If you sell your home, or refinance, before the fixed-rate period ends, you'll enjoy the lower rate and monthly payments.

In a raising-rate environment, an ARM mortgage is something to consider. It may help you afford a larger home, or a more desirable home, by maximizing your buying power. From fixed-rate mortgages to adjustable-rate mortgages—with other options in between—there's a mortgage option to fit your needs.