From the President & CEO: 2022—Momentum Fueling Progress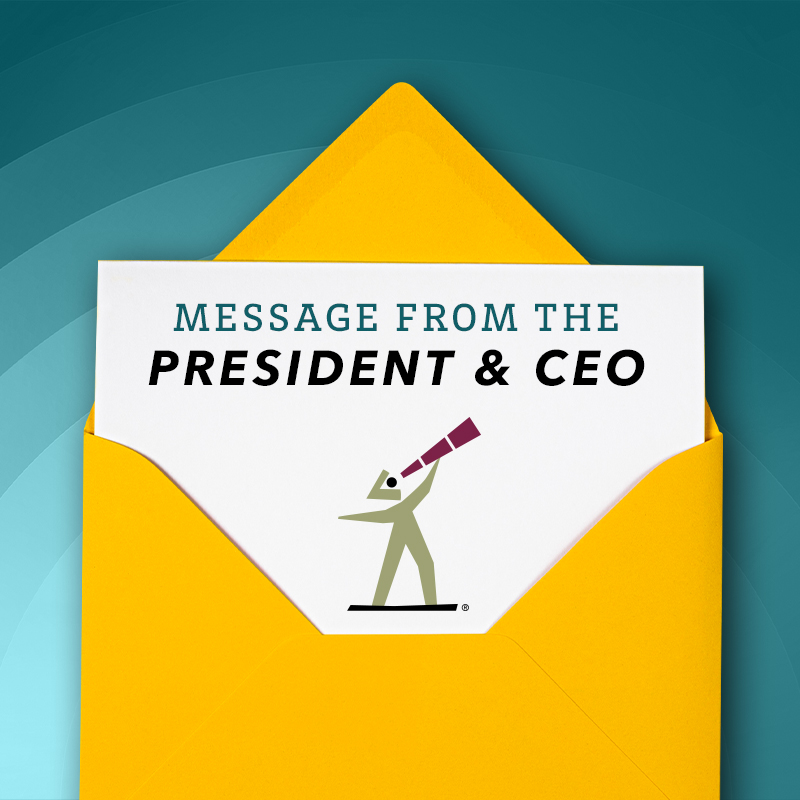 In preparation for our annual meeting, which occurs every April, I sit in reflection of the year prior. I also think about the credit union. What makes us different? What drives us forward? What gives us purpose? The answer is you. All of you. Creating a place where you can receive sound financial advice and the products and services you need to help accomplish what's important to you. That's what propels us forward.
What did our forward momentum help us achieve in 2022. With the continued growth in St. Charles County, we added a new branch—Progress Point—to expand our ability to serve our members in that area. We enhanced and updated our Twin Cities branch. We celebrated 65 years of service, an amazing milestone, and in a nod to our roots, we opened a Creve Coeur location—not far from where our first branch opened in 1967. We ended the year with strong financials, growing loans while also lowering delinquencies and charge-offs. Beyond those notable accomplishments, our momentum continues to build behind the scenes.
As we take on the challenges of a new year, we do so with a continued push toward achieving more. We're enhancing the way we connect with members digitally. We'll be launching an updated website, enhancing the way we deliver information on the products and services that matter to you. We've also partnered with a software fintech to deploy an enhanced digital banking experience. Enhancements to our card program are also in the works. We're in the midst of rolling out updates at the North County branch and planning for two additional branches—Eureka and Manchester—will continue. All focused on serving you in the best manner possible.
Our credit union is well-positioned to embrace future challenges and serve as your trusted financial resource. We want to meet you where and when you need us. Our brick-and-mortar locations provide the opportunity for in-person experiences. We continue to evolve that model to provide the most efficient experience, whether it's at one of our PTMs or with a financial coach. But we know a superior digital banking experience is key. When you're on the go, or when it's convenient for you, Vantage is there to provide access to a financial solution that's always within reach. Thank you for your continued support in driving Vantage forward.
Eric Acree
President & Chief Executive Officer